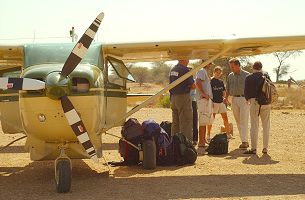 Getting to Katavi N.P.
This is the catch.

To give you a perspective, Ruaha is only half way from Dar as the crow flies and the park can only realistically be reached by light aircraft from Dar, Arusha or Ruaha.
Safari Air Link SAL have a Cessna 206 permanently based in Ruaha for this purpose.
Safari Air Link Scheduled Flights:
SAL operates twice a week scheduled flights on Mondays and Thursdays from Katavi and Mahale to Ruaha/Mikumi/Selous and Zanzibar/Dar connecting also to Saadani National Park, Lazy Lagoon and Pangani.
Since you are just paying for a seat and not the whole plane this is also the most cost effective way for couples, singles or small groups.

Click to download the PDF Safari Air Link flight schedule:
SAL Route Map or Full SAL Schedule Rates.
Safari Air Link Private Charter Flights:
Alternatively if you prefer the flexibility and convenience of a private charter then Safari Air Link, with it's fleet of planes based in both Dar and Ruaha, can offer competitive prices throughout Tanzania and Zanzibar. Contact us or Safari Air Link for a quote.