How to get to the Highland Fishing Lodge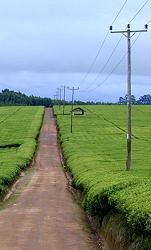 A visit to the Highland Lodge can be worked into an itinerary including Ruaha and Mikumi as part of a road safari or as an extension to the flying safari.
Safari Air Link operates scheduled flights from Dar, Zanzibar, Selous, Mikumi, or Ruaha. The Northern parks and Arusha connect with the Highland Lodge via a 20 min flight from Ruaha.
The nearest Mufindi airstrip is an hours drive away at Ngwasi, although an airstrip is under construction on the farm.
The Highland lodge is 150km south west of Iringa by road.
Directions:
If coming from Iringa turn left off the TANZAM highway on to the "loop" road at Mafinga 45km from Foxes' Maganga Farm. With 15km to go turn off left at the Lupeme sign post. From this point Fox Farm Maganga is sign posted at each turn. A further 5km pass the Lupeme Tea estate office and take the left fork. With only 5kms to go you will pass the Caldelara workers camp ignore the left turn down a hill but take the next left fork. Ignore the left turn (to Mufindi Tea Estate's Stone Valley) just before the Maganga Workers Camp and turn right past it through the tea to Maganga. After a km up the hill ignore the left turn that will take you to Maganga Tea office but continue down the hill on to Fox Farm (locally known as Maganga Farm). 2km further and you have arrived at the Highland Fishing Lodge.

If coming from Malawi, Zambia, Mbeya or Makambako you can turn right off the TANZAM highway at Nyololo at the other end of the loop road following it until you reach Lupeme turnoff to turn right.